ScanSnap iX1300 Offers Robust Scanning Capabilities In A Compact Design
Versatile ScanSnap Makes The Most of Small Spaces
Fujitsu Computer Products of America
Fujitsu Computer Products of America, Inc., the leader in imaging solutions, is introducing the ScanSnap iX1300, an all-new model joining the popular ScanSnap Series of consumer scanners. Incredibly compact, the ScanSnap iX1300 features an innovative design that was built to empower users with faster, more convenient, Wi-Fi-enabled scanning in an even smaller operating footprint that enables work in virtually any environment.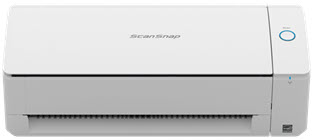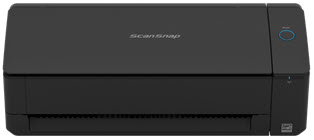 "From your entryway to the home office, the ScanSnap iX1300 is the perfect scanning companion. Fitting into even the tightest of work spaces, it's powerful enough to scan several documents at once or manage materials like cards and booklets up to 2 mm thick, and it does so quickly," said Daisuke Kutsuwada, President & CEO, Fujitsu Computer Products of America. "Plus, it comes equipped with Fujitsu's leading ScanSnap software making it incredibly simple to operate, organize, classify and send scans to your preferred tech device or cloud service, wirelessly. The experience is seamless, delivering the same high-quality scans that fans of the ScanSnap line have come to expect, reinvigorated into an even sleeker design."
The ScanSnap iX1300 removes the complexity of scanning by conducting reliable, high-speed scans of up to 30 ppm/60 ipm (A4-size, color, duplex, 200/300 dpi) at the single press of a button. The scanner also boasts an array of features, including two all-new versatile scanning modes that support a wide range of document types and unique scanning needs:
At the top of ScanSnap iX1300 is the Automatic Document Feeder that employs an innovative U-turn path mechanism that forgoes the typical paper exit tray and allows a stack of 20 pages to scan and eject to the top of the scanner instead. This allows for a smaller operating footprint, as well as a more organized experience when users scan several pages together.

At the front of ScanSnap iX1300 is a Manual Feeder that allows users to quickly scan thicker, more challenging documents such as plastic cards, folded papers, and pamphlets typically reserved to slower and more cumbersome flatbed scanners. Content inserted into the feeder is scanned and promptly returned to the front without even opening the cover. Aside from handling difficult content, the Manual Feeder also provides users a fast and efficient way to scan that occasional document on-demand,

just insert and done

!

Conserving steps and eliminating effort is a big part of the ScanSnap

product line,

and the ScanSnap iX1300 takes th

is

to the next level. Lifting the cover instantly powers the ScanSnap i

X1300 on

, readies the ADF for scanning and automatically deploys its paper extension in a single time-saving motion

.

The ScanSnap iX1300 can be connected by a USB cable or connect wirelessly (2.4 and 5GHz), allowing users to situate this device just about anywhere in their home or office while remaining ready to scan within seconds.
Additionally, the ScanSnap iX1300 includes Fujitsu's all-in-one software, ScanSnap Home, that serves as a home for content, enabling easy document management, utilization and profile customization on both Windows and Mac. ScanSnap Home automatically organizes content by its type, whether its documents, receipts, business cards or photos and even creates searchable metadata so users can find their scans as easily as it was to scan them.
A new mobile version of the software, "ScanSnap Connect Application" is available on Android, iOS and Chrome OS to take your scans on-the-go. ScanSnap Connect can also be used for the initial setup of the iX1300, which means you do not even need a computer at all. Booklet scanning is not available when using ScanSnap Connect Application.
With ScanSnap Cloud, the ScanSnap iX1300 can also be linked to a variety of cloud services like Google Drive and Dropbox allowing users to scan high-quality images and searchable PDFs directly to the cloud, without a PC or smart device nearby. Plus, for even greater convenience, Automatic Name Generation and Automatic Rotation streamline post-scan organization and clean-up while the scanner's built-in feed guide and anti-skew technology ensure uniform processing for your documents.
Available in black or white, the ScanSnap iX1300 is currently available for $325.00 MSRP across Fujitsu's various online retail partners, as well as from Fujitsu's reseller and channel partners.