I'm delighted to introduce the ScanSnap iX1600, loaded with innovative features that truly meet the needs of today's working, learning, and staying at home lifestyle. About the size of a shoebox, the ScanSnap iX1600 proves technology doesn't have to be complicated. It features a simple, intuitive design that's bound to make it a fan favorite. From the touchscreen to automated image correction, to advanced paper handling, this scanner makes it easy to get stuff done, whether it's schoolwork, business, or personal paperwork.
Set up is as easy as ever and the iX1600 is flexible enough to accommodate multiple users (family members, roommates, or coworkers) and uses (business, school, family photos, receipts).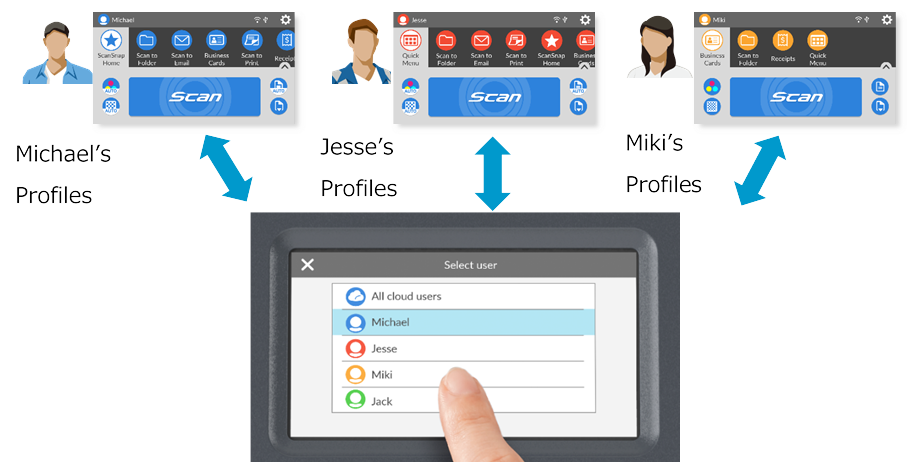 The iX1600 connects to your designated devices through a USB cable or Wi-Fi. When using Wi-Fi, you can scan without having to place it right next to your computer or other device. This can be especially helpful in a house crowded with people and computers or a small office. Set the scanner in an accessible spot, like the home office, or even a credenza in the corner of the living room, whatever works best for you. I'll talk about working from home scenarios—the family that scans together stands together?—in an upcoming blog post, so stay tuned for that.
What is deviceless scanning?
One of the most exciting functions of this full-featured scanner is called "deviceless scanning," meaning that you do not need to open your computer or mobile device to orchestrate where you want the scanned image to go. When you set up a profile, you can simply indicate which cloud service you'd like to use. You can even specify a folder in that cloud service. The iX1600 can create an awesome-looking PDF file inside the scanner and then send it to the right location. You also get ScanSnap Cloud with the iX1600, which caches and processes the file before it's transmitted to your preferred cloud destination. This functionality is very useful in today's work-from-home environment. We have a wide variety of integrations including Evernote, Dropbox, Google Drive, and more. In addition, deviceless scanning doesn't consume any PC resources, so you can keep all of those business applications open while you host a Zoom call.
What's best about the iX1600, though, is that it supports scanning your way. Whether you're scanning to email, cloud fax services, ScanSnap Home organization software, or your favorite PDF or JPEG application, ScanSnap consistently provides an amazing file at just the touch of a button. We even support scanning directly to an iOS or Android device, if that's what works best for you as well.
Speed, accuracy, searchability—and a little magic
With the ScanSnap iX1600 in place, you're ready to go. Do you sometimes put off scanning projects? Maybe you're used to feeling bogged down by the process of scanning—load the document, hope it doesn't jam, run the OCR software, stitch together the PDFs, and so on. The iX1600 solves for many of these concerns. For starters, its ultra-sonic double-feed detection keeps scanning projects going, reducing jams and misfeeds. It smoothly handles narrow and small documents, such as receipts and business cards, using a built-in Receipt Guide or the Manual Feed Mode. The iX1600 scanner produces extremely clean images with Dust Detection and Streak Removal features, decreasing the need to re-process after viewing the scanned images.
Even better, you can set the device to initiate the OCR feature during the scanning process. This means that as soon as the document batch is scanned and processed, it is fully searchable—no need to run OCR software on the files after scanning. This saves so much time, you won't feel like it's a pain to have to scan documents. If you're like me, you might just look for even more documents to scan.
If you're scanning documents like budgets, presentations, and reports, you're going to love this next feature. With the iX1600, you can scan documents, spreadsheets, and slides and then edit them in Word, Excel, and PowerPoint. The iX1600 will maintain formatting and turn it into an editable file in the appropriate format. It's really almost like magic and reflects the versatility and innovation of this new model.
Want to see it in action? Watch this video.