As America's senior's age they face multiple challenges, such as health issues, mobility, finances and altered relationships with friends and family. But one of the key – and saddest – challenges seniors face is memory loss.
Reminiscence Therapy (RT) has been recognized as an effective deterrent to memory loss in seniors and others suffering from cognitive decline. RT focuses on the discussion of past activities, events and experiences with another person or group of people, usually with the aid of tangible prompts such as photographs, household, and other familiar items from the past, music and archive sound recordings.
These visual and audio aids enable us to recall and, even more important, recount our stories, sharing them with family members. This sharing can be especially important for younger generations, as it helps seniors to give their children, grandchildren and other family members an appreciation of their origins, their past, and helps them explore important personal questions, such as "Who am I?", "Where did I come from?", and "What happened in the past that makes my family history unique?"
Recent scientific studies have documented important benefits for those participating in RT, such as reduction in dementia symptoms, lower levels of agitation, and improved quality of life.
But even more important than these tangible benefits are the intangible ones: improved socialization, deeper, more intimate connections with friends and family, even joy and love.
The power of pictures to stimulate and engage seniors is what has driven ScanSnap and Vivid-Pix to pair ScanSnap's SV600 with Vivid-Pix's RESTORE software optimized for home, office, or specialized settings, such as assisted living centers or municipal senior centers.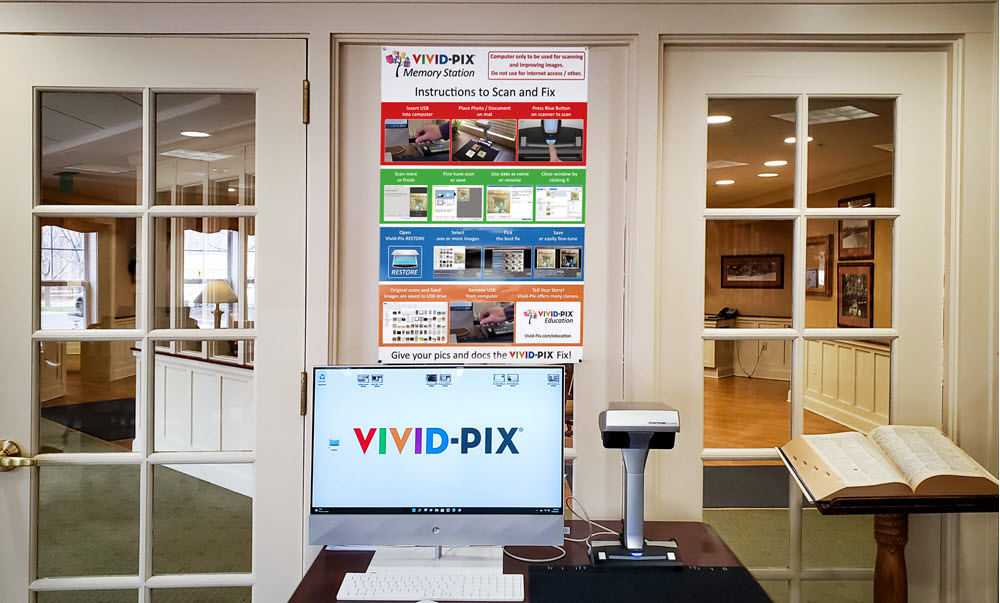 The ease and convenience built into the ScanSnap SV600 enables seniors to scan old photos that might otherwise gather dust in a storage box or album and bring them to life for new generations to enjoy. Vivid-Pix's powerful RESTORE software can enhance faded images, restore color, and improve contrast, which can be essential for aging eyes. Visit Vivid-Pix to learn more.
But there are multiple benefits to scanning old family photos. For example, it's easier and cheaper to archive digital images than it is to archive paper. Once images are digitized, they can essentially be preserved for posterity on a computer, DVD, or in the cloud. Paper photos, on the other hand, are bulky and can fade or even disintegrate over time if not properly stored.
Another benefit is that in today's connected world, digital photos can be easily and quickly shared with family, friends, and even generations yet unborn. Modern communications platforms, such as email, texting, and the cloud, give us the ability to transmit and receive family images and have online conversations with loved ones regardless of physical distance or disparate time zones. It's now just as easy to participate in a meaningful way with a child or relative living in Japan as it is with one living in New York City.
Did You Know?:ZD Net had this to say about the ScanSnap SV600, "If you want to convert your entire book, magazine, and resource library into digital form, then this is the device you need." Click here to read the full review.
Finally, there's your individual legacy to consider.
Today's technology can combine photographs, documents, or video, making it easier for those of us living in the first half of the 21st century to share our life stories, experiences, trials, tribulations, and lessons learned with our children, grandchildren, great-grandchildren and future generations.
Most Americans have little idea what life was like for their direct ancestors, because they didn't leave behind photographs, maintain a diary or write a memoir. Imagine the power of being able to share your unique life experiences, along with personalized, meaningful images, with descendants whom you have yet to meet. What a powerful way to create a legacy that can last for generations, if not longer!
The technology exists and it's easy to use. So, take a moment to think about the legacy you want to pass to your progeny, pull out that old shoebox or album and start scanning!