PaperStream NX Manager
Revamp the process of scanning and organizing documents with PaperStream NX Manager, an on-premises or private cloud-based solution. With NX Manager, IT teams can manage multiple scanners without the need for a connected PC, minimizing the use of additional computer hardware and decreasing the likelihood of errors caused by human intervention. With secure remote management capabilities, the NX Manager significantly eases the burden on IT administrators by enabling them to modify settings from any location within their network.
Centralized Management
Streamline the setup and management of complex scanning software by configuring the entire NX Manager Server instance from a single location on the network.
Control a Fleet of Scanners 
With its remote management capabilities, NX Manager is an excellent solution for a distributed workforce. The system simplifies scanner installations and requires minimal IT support.
Local Instance and Private Cloud
NX Manager facilitates a direct connection between the scanner and a local instance or private cloud. With a simple tap and scan, image data is rapidly sent to its final destination.
PC-less Scanning Experience
Eliminate the need for additional computer hardware when scanning and saving documents with scanners that connect directly via Ethernet or Wi-Fi.
Leverage Toolkit for Integration
Build, customize and distribute a connector for your cloud services with NX Manager's toolkit.
Document Security
Ensure the secure transfer of image data from scanners to a single server through HTTPS. This security feature helps to safeguard the entire transfer process, from start to finish.
NX Manager Specifications

NX Manager empowers the fi-7300NX and fi-8000 series scanners to increase employee productivity. With streamlined task management for IT administrators and secure data entry, companies can trust that their documents will arrive at their intended destination securely. Customizable jobs and PC-less operation decrease preparation time and minimize computer maintenance costs, leading to significant cost savings for businesses.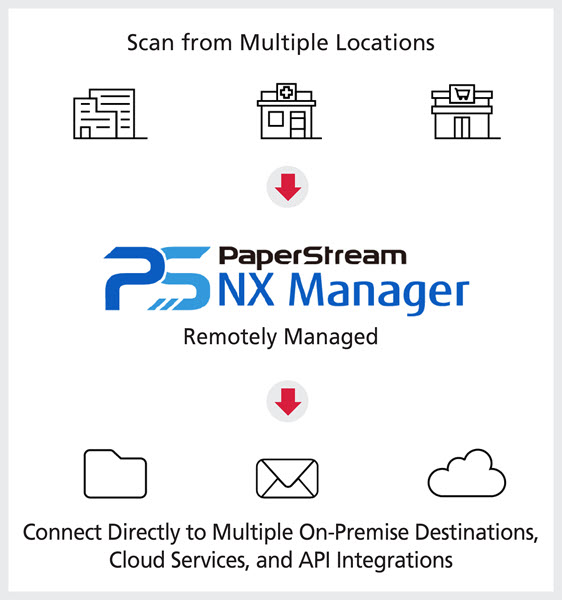 From business automation to scalable document management, discover how the NX Manager solution works for our partners.
Looking for a New Scanning Solution or an Upgrade?
Leverage a centralized scanning solution in a distributed environment with NX Manager.