Fujitsu Introduces PaperStream ClickScan To Make Scanning Simpler
New PaperStream Series software offers ease-of-use and expanded functions
Fujitsu Computer Products of America
Fujitsu Computer Products of America, Inc., the industry leader in imaging solutions, today announced the launch of its new software. PaperStream ClickScan is designed to take the complexity out of scanning while utilizing Fujitsu's industry leading image cleanup functions to improve the usability of Fujitsu fi Series and SP Series scanners.
PaperStream ClickScan is a complimentary software available for all fi Series and SP Series scanners. In keeping with PaperStream's ease-of-use, the user interface is designed with intuitive navigation in mind. PaperStream ClickScan can be used alongside PaperStream Capture, and leverages PaperStream IP image cleanup and automation to create the clearest, best images. PaperStream ClickScan provides all of the scanning features required for most, while maintaining the ability to use all of your other, TWAIN applications when needed.
"Ease-of-use is our top priority for our product design," said Daisuke Kutsuwada, President and CEO of Fujitsu Computer Products of America, Inc. "The new PaperStream ClickScan takes the complexity out of document scanning. It is ideal for everyday scanning in users' personal lives, as well as business environments already using Fujitsu's best quality fi Series and SP Series image scanners. With its simple step-by-step scanning capabilities, PaperStream ClickScan is ideal for personal and professional users alike."
PaperStream ClickScan installation only requires one simple step. Users do not need to preset scan settings or output destinations before use, keeping operations to the bare minimum and providing high quality scans in three simplified steps -- scan, select destinations and save.

Once PaperStream ClickScan is installed, users can assign, edit and save the scanned data within minutes of scanning with just "one push." Rotate, crop and delete scanned pages within the software interface, saving scans to a folder, email or application. Easy navigation and visual icons allow administrators to select and change basic settings such as color mode, resolution, page size and file format on a single panel to best fit the current environment. File formats can be selected from PDF, Searchable PDF, Password-protected PDF, JPEG, TIFF single/multi-page and BMP.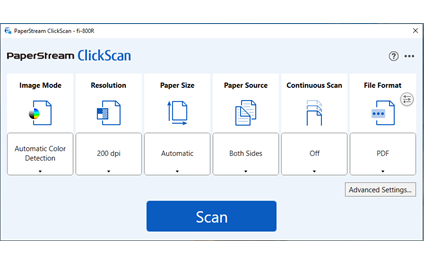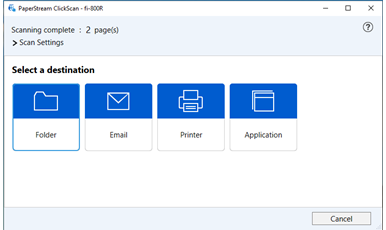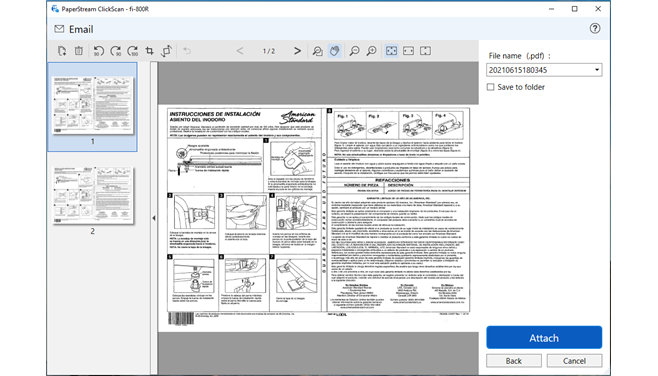 Implementing Fujitsu's industry leading image cleanup capabilities, the PaperStream ClickScan software provides all of the scanning features required for a variety of any sized business or end-user scanning needs, including personal through enterprise, corporate, home office and hybrid work environments.
PaperStream ClickScan co-exists with all ECM systems within both older and newer Fujitsu fi Series and SP Series scanner models. The new software is perfect for professionals within the financial service, higher education, manufacturing, government, healthcare and retail sectors.
Support for the fi Series begins today, with support for the SP Series expected to be available in July 2021. PaperStream ClickScan is available for free download at https://imagescanner.fujitsu.com/global/dl/.