For medical facilities such as hospitals, maintaining accurate patient data, and "one patient, one record" processes are a crucial part of a patient's care beginning upon admission. Patient care can only be as good as the data available, and if data is missing or inaccurate, it can delay care and even lead to poor decisions. That's why gathering all of the patient's information accurately during the admissions process is one of the most important factors in outcome.
There are a couple of different ways a patient can be admitted into a hospital; Emergent Hospital Admissions or Elective Admissions. Emergent Hospital Admissions is when a patient is admitted from the ER or by ambulance during an unplanned event. Elective Admissions is when a doctor has assigned a bed for a patient at a scheduled time such as for elective surgeries, giving birth, or transferring in from another doctor office or another hospital.
Admissions areas can look like a traditional reception desk, or it can be a WOW (workstations on wheels) found in the ER or a doctor's exam room. And today, because of COVID-19 events, some admissions areas are located in temporary tents set up in parking lots or sports fields. Document scanners are an essential device for any admissions area in order to capture every piece of patient data such as:
Personal information; name, address, phone number, and next-of-kin details
Completed admissions forms (non-emergency)
Medical insurance cards or other funding details
Current test results, such as x-rays, scans and pathology
List of current medication and dosage
Specialist's contact details
Patient's pharmacy contact information
This information is used and carried along with the patient from admitting to discharge and may be printed on ID bracelets, medical reports and x-rays, and billing statements. Data accuracy can attribute to easy patient matching and record retrieval, and continuity of care. Inaccurate data can contribute to loss of patient medical history, existing medical files, delay in admissions or billing.
There are many challenges when trying to match a patient to a prior record which can lead to issues already mentioned. Address changes, maiden name versus married name, birth date or social security number nomenclature from one hospital to another can lead to duplication of patient records or misfiled records. Creating a standardized way to collect patient key attributes (birthdate, social security) will improve your ability to locate existing records, reduce duplication, and shorten the time it takes to pull records.
It's important to digitize these patient documents and fi Series document scanners are the best-in-class. All of these scanners include user-friendly software that will clean up the digitized document by removing any background noise, color, or stains, so that you get the clearest document possible leaving only what 's important – the data. You can also tag meta data, i.e. name, birthdate, patient ID number, and automatically name your documents and files. The document file will also be compressed so that it takes up less digital space and requires less bandwidth to transmit to cloud or EMR systems. Best of all, when you need to find a document, all it takes is a simple Windows style lookup.
Here are two scanners that fit flawlessly into a patient admissions environment: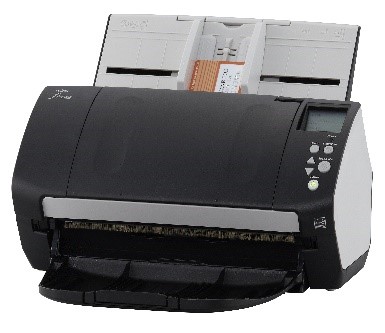 fi-7160
The #1 selling workgroup document scanner, the fi-7160, is the quint-essential workhorse in the medical environment. With its ability to scan 60 pages per minute of various size documents, including hard cards, it sets the standard for patient intake in reception areas. With PaperStream IP TWAIN driver and software, the scanned documents come out as clean and readable digital images. You'll never miss a page of important patient information because of our advanced feeding technologies that reduce jams, misfeeds or cut-off data.
fi-800R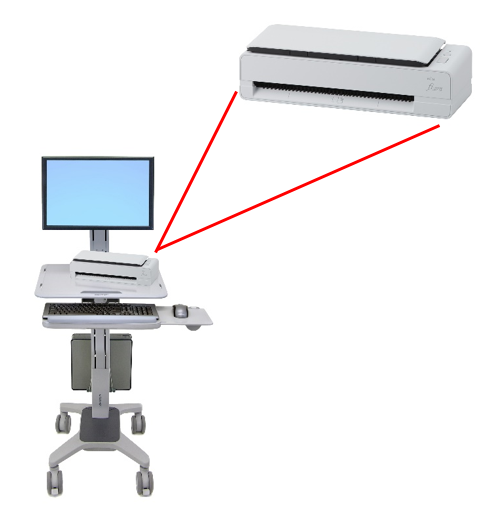 This little powerhouse is ultra-compact and minimalistic so it is perfect for cluttered admissions desks and WOW (workstation on wheels). It requires very little operating space which means it can fit into the tightest of spaces. The fi-800R features two different paper feeding paths; U-turn Path – perfect for batches of various sized paper, and a Reverse Path to scan patient ID cards and insurance cards. The in-box PaperStream IP TWAIN driver and software creates exceptionally clean images, and can also integrate with a hospitals EMR software.
These scanners are powerful and durable, yet easy to implement and use. The fi Series document scanners are easy to install yourself, without the need for IT resources. And the software is user-friendly and includes predefined profiles so you can begin scanning right away without complicated configuration.
When it comes to patients, accurate and readily available data is critical. Be sure to include a document scanner as part of your patient admissions process to quickly admit and send along important patient data to the care team. To learn more about the fi-800R and the fi-7160 visit our website.