Drive-by parades have become a popular way to celebrate during the pandemic. The COVID-19 crisis has changed the way we celebrate many milestone events such as weddings, birthdays, anniversaries and graduations. Social distancing has been tough on a lot of us. As adults, we understand why we can't have a party now. For a child, having your birthday fall during a pandemic can be devasting. As a parent, I wanted to celebrate my daughter's 11th birthday in an unforgettable way.
I wasn't going to let the pandemic put a damper on my daughter's birthday party. Instead of hosting a traditional birthday gathering, we held a 'drive-by' colorful birthday parade. Our friends and family decorated their cars with colorful banners and sang happy birthday. We had about 20 cars drive by to sing happy birthday and it turned out AMAZING. My daughter loved it! As the drive-by came to an end, everyone drove by once again to gently take off the banners from their cars and to leave them with us. How thoughtful of them to leave all the masterpieces with us, right? All 20 cars had 2 posters on each side of their car for a total of 80 posters! Instantly I thought "I don't have space to store one more piece of art work let alone 80 pieces!" The recycle bin was not an option although it was a swift thought.
The thought of never-ending paper clutter in my home causes me agony.  Owning the ScanSnap iX1500 scanner helps me to stayed organized without paper clutter. I am able to archive important documents such as tax papers, insurance documents and other important forms.  I decided the best way to save the colorful posters from my daughter's birthday drive-by celebration was to scan them through my ScanSnap iX1500.  Some of my daughter's birthday banners were made with glitter and sequence for those banners I used the carrier sheet to scan the artwork.  Documenting and archiving the memories from the celebration makes my daughter very happy knowing she can look back at them for years to come.
Here are the easy steps on how I scanned my daughter's birthday posters of the images to keep for memory forever.
I first folded the posters in half (tip: you will need to fold the papers that are larger 8.5x11 and maximum size of 11x17 to scan through the ScanSnap iX1500). I opened the ADF paper chute (cover) of the ScanSnap to turn the power on. I pulled out the stacker and the extension on the ADF paper chute (cover). You will need to configure the settings for a "Document folded in half" profile before scanning the images. A profile is required in order to scan a document with the ScanSnap.
That's it! This is how I scanned images together to create a double page spread image which look just like the posters!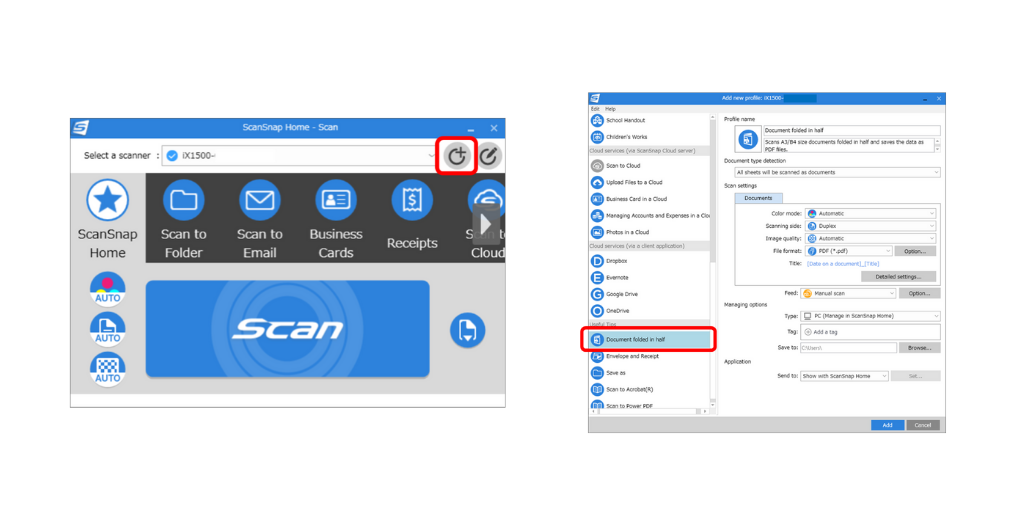 I specified the feeding method and folded the larger documents in half with the side to be scanned facing out. I loaded the papers in the scanner and scanned the images.
After scanning everything, I created a memory album online with the scanned images. Now, I can share the album and files online with friends and family that live close or far.
The 'drive-by' birthday parade was a huge success! What could have been a very sad day for my daughter turned out to be one of the best. My daughter's 11th birthday parade, will be a day to remember during these tough times of social distancing.