The new SP-1120N and SP-1130N network compatible scanners are perfect for small businesses and users who need a value priced, easy-to-use document scanner at a low up-front price.
The new SP network models will replace the SP-1120 and SP-1130 models with new features, including an updated operating system as well Ethernet connectivity. This allows businesses to utilize the unrestricted connectivity of Ethernet for stability and speed to drive competitive advantage for enterprising entrepreneurs and small businesses.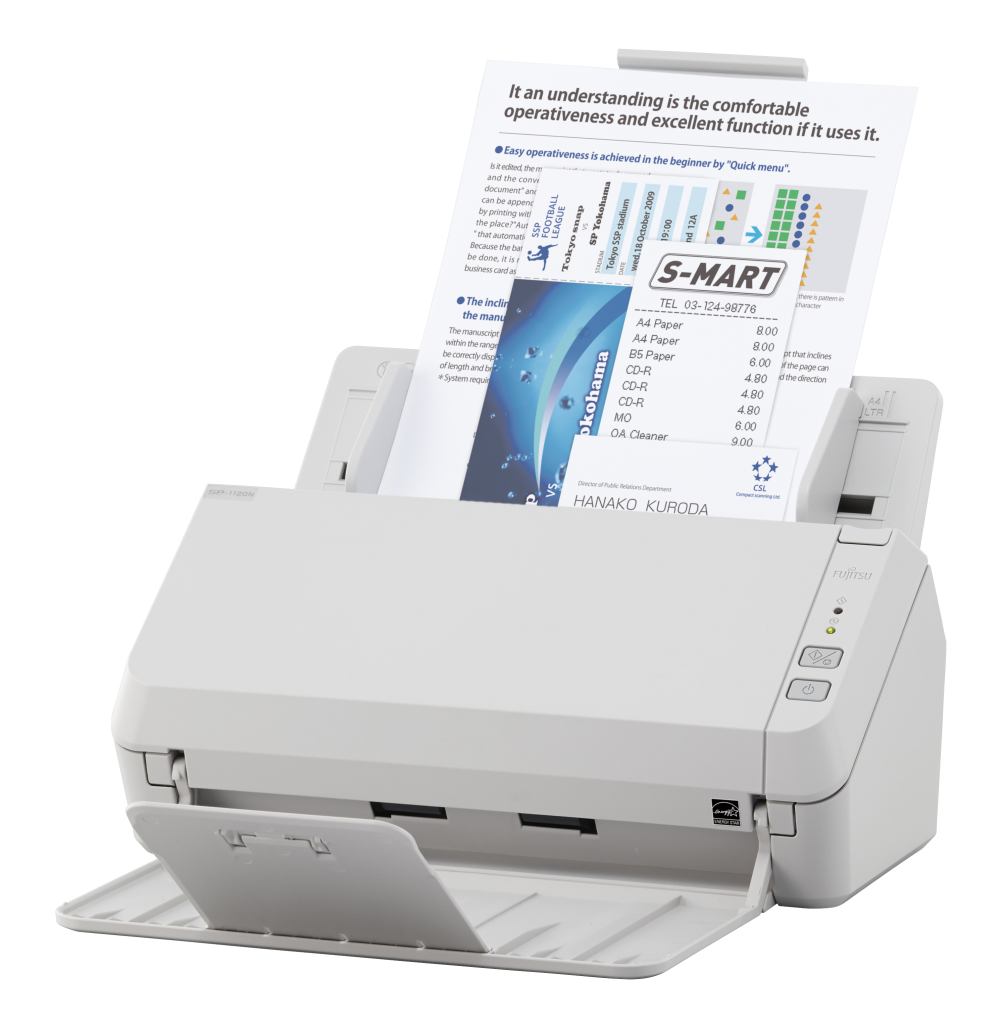 Smaller, Simpler, Faster than the Competition
One of the best features of the SP-1120N and SP-1130N is the compact size. These scanners are nearly 20% smaller than other scanners in the category, which makes them easier to place on crowded desks and in tight spaces. They also have fewer buttons, only two: "Scan/Stop" and "Power ON/OFF", making them much less complex than other scanners, and simple to use.
A Scanner that Connects to (Almost) Anything
The SP-1120N and SP-1130N have multiple ways to connect: USB 3.2 and Ethernet connectivity so businesses can utilize through the company's network for stable, fast and secure connections.
'Stable Paper Feeding Performance' Means Jams Don't Keep Your Business from Jamming
SP-1120N and SP-1130N stable scanning speeds of 30ppm (SP-1130N), A4 color, duplex 200/300dpi) assist with stress-free and stable operation even in busy offices where swift operation is required. With their page separation technology, and ultra-sonic sensor to detect multi-feeds, the SP-1120N and SP-1130N can accurately feed various sized documents, thin to thick documents, and plastic cards such as ID cards, reducing unexpected interruptions, rescans, or damaged documents.
User-friendly Software Reduces Tasks
The industry leading software, PaperStream IP with TWAIN driver and PaperStream Capture come in the box. PaperStream IP provides radical image clean up including background pattern removal, blank page detection, and streak reduction which improves OCR performance. PaperStream Capture software allows scanned documents to also be sorted based on barcode recognition, zone OCR recognition and document layout. Additionally, to simplify operational use, there is one-push scanning, simple meta data tagging, data extraction, and conversion to searchable PDF.
The SP-1130N is a great scanner for a small accounting firm, especially as the accountants may all currently be working from home because of COVID-19. With the low up-front price point, each accountant can have their own document scanner. Since the SP-1130N has a compact and minimalistic design, it takes up very little space and looks good in any environment. It easily scans client W2 forms, receipts, and asset documents with a simple one push scan. Using the PaperStream Capture software, the accountants can tag meta data to automatically name files and folders in a consistent manner and convert the documents into searchable PDFs that can be shared across the firm.
On June 16, 2020, the SP-1120N and SP-1130N will be available through FCPAs distribution channels. The SP-1120N list price is $395 and the SP-1130N list price is $495.