The Next Generation N7100E Scanner Features Updated Operating System, Memory, and Ethernet Connectivity.
We've made network scanning that much easier with the new N7100E Network scanner, the next generation of the N7100. The N7100E network scanner is an easy-to-use shared, stand-alone scanner with a large touch screen and job buttons to make distributed work flows more efficient. With its Ethernet connectivity and large touch screen, users can scan, QC, and send data through a flexible, secure document scanning solution without a PC. Customizable job buttons ensure each user will scan and process their documents accurately each time.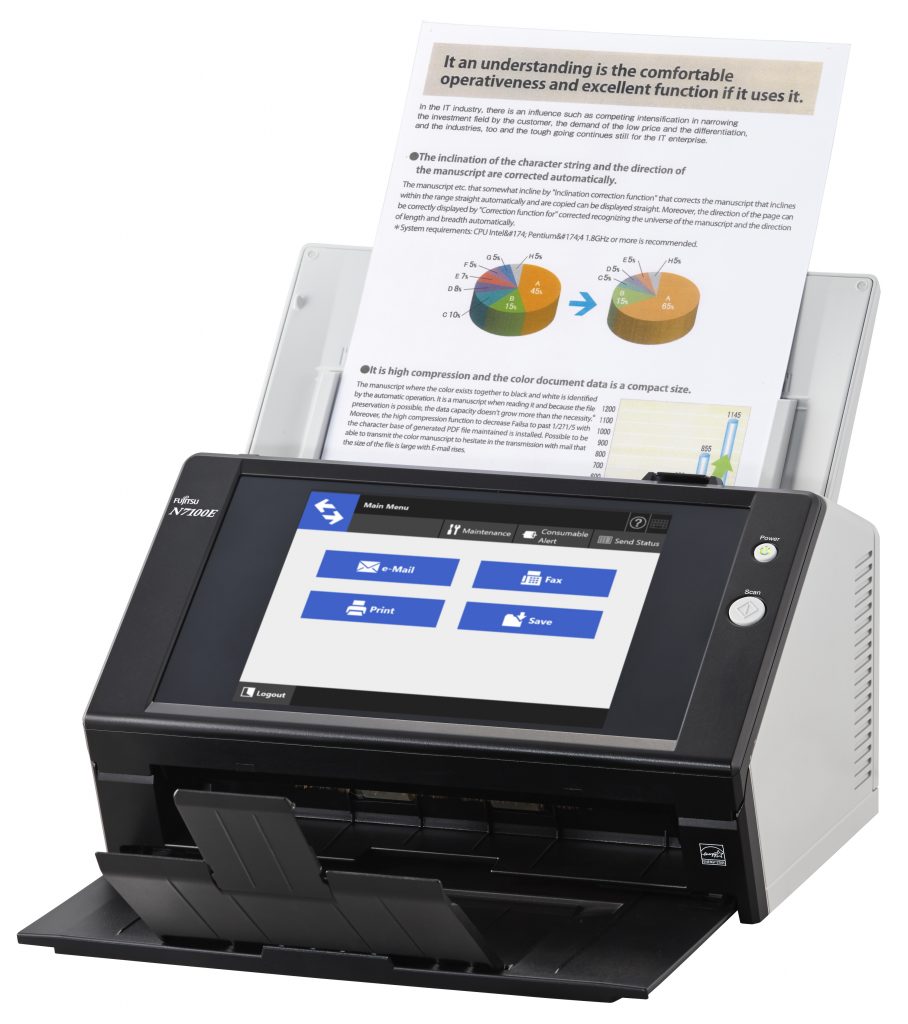 Designed for the most efficient user operability, the N7100E features an extra-large 8.4 touchscreen with job buttons, simple one-touch scanning capabilities, and Active Directory scan-to destination settings. Minimal training is required which allows any employee in any location to step up, select their job, and scan without hesitation. As it's connected through the network, the scanner can be placed anywhere that documents are entering the facility; for example, a loading dock, reception, or mail room and captured data can be instantly sent to the main office or HQ.
Our document scanners are known for their reliability and high performance. The N7100E includes advanced paper feeding technologies such as skew correction and multi-feed detection, which reduces jams and keeps scanning projects going. The N7100E utilizes our industry-leading PaperStream IP software for radical image cleanup allowing for the most accurate OCR performance. The scanner also boasts rated speeds at 300 dpi in color which means more scans can be captured each day.
One of the best benefits of the N7100E is how efficient it is for IT personnel. With this scanner, no PC is necessary, reducing hardware and maintenance costs. An entire fleet of scanners can be managed remotely preventing unnecessary travel to make OS or software updates. An SDK is also available so businesses can customize their workflows starting at the scanner.
The N7100E Network Scanner Features:
Ethernet Connectivity - The N7100E is network capable, providing high throughput and secure data with stable and longer range placement options.
Stand-Alone Shared Device - No PC required which saves hardware costs, maintenance and allows multiple users to share one device. The scanner can be placed at a multitude of paper collection points (mail room, reception area, etc.)
Extra Large 8.4 Touch panel - Provides easy job buttons and allows users to view, edit and validate data before sending to business workflows. Predefined user job buttons make scanning quick, easy and error free
Security Features - Operators can save and share data securely and multiple users can be easily authenticated. The N7100E meets industry standard security protocols (LDAPS, HTTPS and FTPS). Any scanned data is encrypted while temporarily stored in the scanner and is deleted data automatically once data is released
Send to - Send to a network directory, email, fax or print
SDK - Businesses can customize the N7100E application and integrate with other business applications
Centralized Management - IT can manage a large network of scanners from one console reducing travel and setup or installation time
Image Cleanup - With PaperStream IP software, images are automatically cleaned up to improve OCR performance
USB connection - Allows flexibility to use standalone keyboard or additional authentication device
As today's workforce changes and adapts to new situations, the N7100E becomes a flexible and critical tool in capturing a businesses' data at the point of entry and the ability to get that data where it needs to go.