We offer different solutions with our PaperStream software to pair with our high performing and excellent fi Series scanners.
Ricoh is known for high-quality, best-in-class document scanners, but we also offer easy-to-use scanning software. Our PaperStream software lineup provides significant impact for businesses to reduce costs, increase efficiencies, and minimize utilizing resources. Our PaperStream software helps provide accurate and clear images that improve OCR performance and gets to what businesses really need: the data. Additionally, PaperStream software helps digest paper data, providing greater visibility to business intelligence, improving workflows, and achieving compliance within your company.
Today, I will introduce to you the different solutions of PaperStream software and how our solutions can be beneficial for organizations. You can improve records management processes and drive down business expenses. PaperStream comes with the scanning industry's best clean up, reduces the need for rescans by getting it right to your standards the first time, better reproduction, computability with all third-party ECM solutions, reduced file sizes for improved long-term storage cost, powerful in box for QC and meta data capture.
PaperStream IP Twain and ISIS Drivers

PaperStream IP ranks as our industry-leading image cleanup software driver. PaperStream IP without any adjustments cleans up 99% of your documents without you having to do anything. However, if you have "difficult" documents that need to be scanned, PaperStream IP comes equipped with tools such as background smoothing and water mark removal. You can utilize this software with third-party TWAIN and ISIS applications, enhancing them through integrated cutting-edge image processing technologies. This means you can save time and money for your organization's workflow. The need for rescanning and other tedious work is no longer an issue! Additionally, with many proficient features such as front and back merging which automatically combine two images into one, 100% color depth accuracy using Patch Codes to identify the correct color for each page in a batch, assisted scanning which visually chooses the best image for image replacement or profile setting without having to use advanced driver settings. PaperStream IP has many great features and benefits that will ultimately assist your business.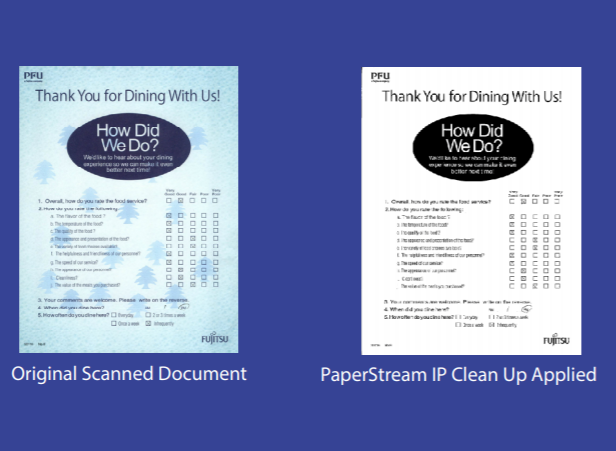 PaperStream Capture (Standard Version)

PaperStream Capture allows for simple and complex batch capture for any fi Series scanners. This in-box software is great for organizations that need an easy to use scanning software that requires minimal training while retaining a high level of productivity. While easy-to-use, profile flexibility gets the documents to the right location in the correct file format without changing existing workflows. PaperStream Capture compliments any organization's existing workflows without any additional costs. This software solution benefits organizations and departments that require an efficient yet easy way to convert paper documents into a digital file for high level data indexing and extraction. The solution is easy to set up, with no IT resources required. In box software, covers all individual needs as well as most organization when scanning into a flat file system. OCR, indexing, and QC, file date stamping, batch separation are all powerful features right in the box to help any organization digitize their documents.
PaperStream Capture Pro

PaperStream Capture Pro elevates your document scanning projects to the next level.. PaperStream Capture Pro has the great features of PaperStream Capture Standard, such as simple data extraction, indexing, and ease of integration to third party systems, giving organizations the ability to maximize automation, productivity and efficiency throughout the document capture process. In addition, PaperStream Capture provides zonal OCR, remote QC, file data import, meta data entry, and database connectivity. Proper utilization of PaperStream Capture Pro ensures efficiency and accelerates workflow by helping operators automatically extract and enter metadata. Additionally, PaperStream Capture Pro improves organizations records management processes and drives down business expenses. With PaperStream Capture Pro, your organization can start working faster, better, and intelligently to ensure success.
PaperStream NX Manager

Designed for the fi-7300NX document scanner, PaperStream NX Manager provides easy-to-use, web-based, centralized management, allowing the IT professional to remotely control and administer workflows. You can control up to 1,000 scanners, even at remote branches and offices. With the color friendly, easy to navigate job buttons, you can essentially remove the time and costs associated with training. Users log in to the device, put in documents, and press customizable buttons to send scans to the correct destination. NFC access and Active directory access allows for users to quickly access their own workflows. You can integrate your processes to scan to many destinations, including email, SharePoint, cloud services, and web-based systems while ensuring high image quality with the PaperStream NX Manager. With less interruptions and great ability to empower your team, the PaperStream NX Manager is a wonderful addition to your organization to share devices without a PC.
We offer many amazing features and benefits to help elevate your organization's document management processes. Want to find out more about the PaperStream software? Reach out to our Inside Sales team at 844-336-9668 to learn more. We look forward to hearing from you!