Bookkeeping is a necessity that can be quite time consuming and even costly for small businesses—but it doesn't have to be that way.
We are introducing an exciting new solution that can free up a significant amount of time and money for people who use QuickBooks* Online and own or are thinking of purchasing a ScanSnap document scanner.
Streamline your bookkeeping starting today!
Meet ScanSnap for Invoice, a new powerful all-in-one digital on-ramp for invoice data capture that can streamline your time-consuming bookkeeping tasks. Whether you are tech savvy business owner and do your own books, or just looking to reduce the time you spend on data entry, this subscription-based solution is for you.
Powered by ABBYY FlexiCapture Cloud for Invoices, ScanSnap for Invoice combines the one-touch simplicity of ScanSnap with the QuickBooks Online invoice management platform.** Providing a simple workflow for accounting practices, ScanSnap for Invoice extracts the accounting information you need, such as important line-item details, through optical character recognition and automatically places the data in corresponding QuickBooks Online fields.
Once your invoices are scanned, you can complete your bookkeeping processes, or send the invoices to your accountant for processing. With automated data entry, your accounting workflows are accelerated and business processes are more efficient, so you not only save time and money but also reduce errors.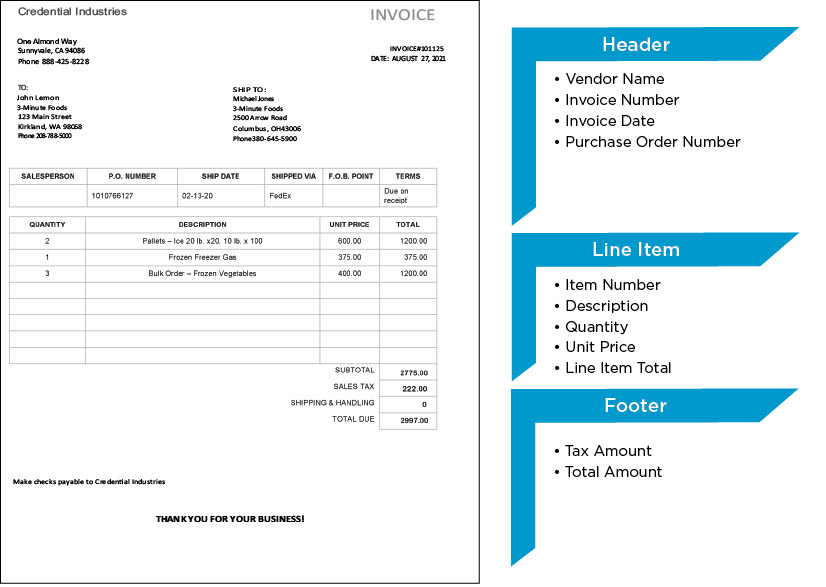 Almost any ScanSnap document scanner model—the ScanSnap iX100, S1300i, iX1400, iX1500 or iX1600—works with ScanSnap for Invoice. These scanners can inherently can increase your bookkeeping—and your business—efficiency even more as they can help you track, organize and manage your invoices faster and easier than ever before.
Try ScanSnap for Invoice out today!
A monthly subscription for this service is only $24.99 (a total cost of $300 annually), but you can try it out for free right now. Scan up to 20 pages of invoices on whichever model listed above that you currently own or purchase. Once you see how much time and money you can save, you can subscribe and scan up to 60 pages per month, with a small overage fee of $.50 per page.
For a free evaluation or to purchase a ScanSnap for Invoice subscription, visit our Scanner Store today. To learn more, read the ScanSnap for Invoice datasheet here. And if you want to learn more about our ScanSnap scanners for small businesses, visit here.
*Intuit and QuickBooks are registered trademarks of Intuit Inc. Used with permission.
**ScanSnap document scanners and QuickBooks Online are not included in a ScanSnap for Invoice subscription and must be purchased separately.