Historically, the one-touch scanning that came with ScanSnap models like the now-retired iX500 has always been a fan favorite of our customers. That's why I'm excited about the recent introduction of the ScanSnap iX1400, which creates a scanning experience unlike no other.
This perfect-for-home-use scanner is a true classic beauty that comes with a high level of sophistication, allowing you to scan the way you want—all with the click of a simple blue button.
One-touch simplicity—without the complexity
With the iX1400, there's no need to be IT tech savvy, as this scanner doesn't have any complex configuration settings. You get all of ScanSnap's sophistication and intelligent processing, but with none of the hassles of having to become an expert user. Just open up the cover, and the iX1400 powers up and it's ready to scan, digitize, save, organize and share your documents, receipts, business cards, photos and more. It's that easy—and that foolproof. And it's small enough to fit on your desk without taking up a lot of space. That makes it easy to quickly scan your documents without having to get up.
The scanner connects to Mac and Windows computers via a USB port, hold ups to 50 pages at time, and scans at a fast 40 pages per minute, allowing you to get more done in less time. The technology inside includes advanced paper feeding with ultra-sonic feed detection, which creates efficiencies by reducing misfeeds and paper jams.
Complexity is further reduced by a host of other built-in features, such as the ability to scan various sized documents, like receipts, photos and documents, without the need to prepare or sort. Scanning quality is enhanced by automatic size, color and blank sheet detection—and other capabilities like automatic rotation, dust detection, de-skewing and streak reduction are included as well. All of these automatic features combine to give you the perfect PDF file the first time and every time.
Another feature I would be remiss if I didn't mention is the iX1400's OCR capabilities. In the past, the technology could produce around 96%-character accuracy. That was great, but it still left up to 40 mistakes in a 1000-character document, which can be time-consuming to find and fix. With the iX1400, you not only get great quality OCR, but your scans will also retain the original formatting and graphics, so you can scan complex documents with tables, text boxes and diagrams and accurately recreate them in Microsoft Word, PowerPoint, or Excel without having to rekey the original document. If you're scanning your documents for archival, communication, and collaboration, you can also make your documents fully searchable which makes them easy to find while still preserving the true fidelity of the original document. Also, the iX1400 includes ScanSnap Home. It's a turn-key solution to manage your scanned documents. In addition to being able to search for your documents based on text, it allows you to create customized tags for your documents to give you a great way to categorize your content, making organization easier then ever!
All in all, these features help the iX1400 make scanning super easy while it turns your documents into superior quality, extremely clean digital images.
What's the magic behind that little blue button?
Let's talk about the one-touch power behind the blue button I mentioned before. You're your documents in the feeder and press the button. Your documents will be quickly scanned and the productivity-enhancing Quick Menu pops up on your computer that features a variety of scan to locations. Here's a screen shot of it below. Just choose your preferred application and your documents will appear exactly where you want them. The profiles are automatically implemented when you install the iX1400. You can configure, change, and add new ones using ScanSnap Home.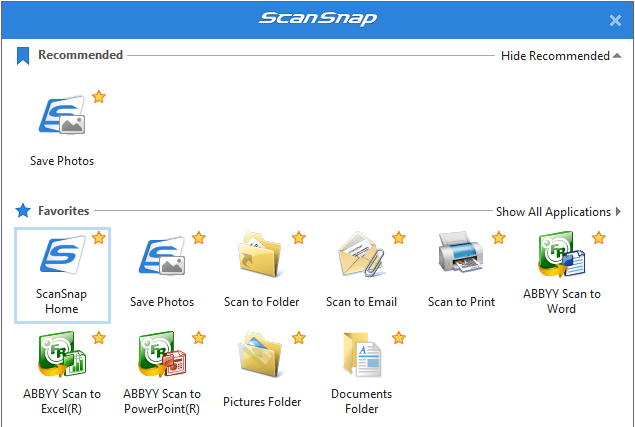 The Quick Menu is your access point for all ScanSnap Home functions you'll need to manage, organize, and edit your documents. From the Quick Menu, you can:
Scan to whatever and wherever you want

. As I mentioned before, you can scan documents, receipts, business cards and folders—and then save them as documents, JPEGS or PDFs. Plus, you can scan directly to whatever storage destination or application you want, whether it's a folder, email or printer.

Create a digital filing system

. You can organize your documents by developing your own classification and categorization systems with custom tags. And once you set up your digital filing system, you can take advantage of automatic format recognition, which allows for immediate classification and filing of common formats like documents, business cards, receipts and photographs.
Make documents searchable—and editable

. You can create searchable PDFs too, making retrieval quick and easy. If you're using Microsoft Office Word, Excel or PowerPoint applications, you can save them as editable documents, making modifications easy.

Create profiles that work for you.

The iX-1400 comes with templated profiles, but you can create your own with your preferred scan settings that includes the applications you want to send your documents to. All your profiles will be easily accessible in the Quick Menu.
It's hard to describe all the benefits of the iX1400, but this short video brings to life many of the features that I mention here. You can also visit the iX1400 product page and learn more there.