Streamline And Stay Organized This School Year With ScanSnap
Streamline And Stay Organized This School Year With ScanSnap
As an educator, you may be back in the classroom or you may still be teaching from home. Either way, you need the best tools to save time, stay organized, and be able to share. ScanSnap's industry-leading document scanning solutions provide the simplest and most efficient way to digitize, organize, and share student documents across the education environment—from the front office to the classroom. They help facilitate student classwork for teachers, parents, and school administrators, whether students are learning on site or remotely.
ScanSnap Imaging Solutions provide superior performance, industry-leading image quality, and operational ease-of-use to ensure that the scanning of every project goes smoothly—so the most important part of a document is captured: the data.
Scan everything from lesson plans to new student registrations, vaccination records to proof of residency. ScanSnap scanners integrate with popular platforms like Google and Microsoft, so teachers can connect physical and digital documents easily. School administrators can simplify processes by digitizing student records for upload to document management or student information systems.


Adding a ScanSnap scanner to your desk or office makes it easy to stay organized, with less paper-shuffling.
Quickly and easily scan, digitize, and organize documents—no need for IT
Eliminate processes that were once manual and prone to human error
Reduce paper processing and preparation time
Produce exceptionally clean images—better than the original
Compress digital file size while eliminating paper storage space requirements
Maintain an organized and productive work space
ScanSnap® iX1600
A highly flexible and fast scanner with multiple ways to connect for convenience and usability
Lets you customize for various tasks and users on its intuitive 4.3" touch screen
Connects via USB or Wi-Fi
Scans double-sided documents quickly
Scans wirelessly to PC, Mac, iOS, and Android mobile devices
Scans batches of documents in color fast—up to 40 ppm duplex color scanning—so you get more done in less time
Keeps images clean with Dust Detection, Streak Reduction, and Intelligent Image Correction
Helps you easily manage, edit, and utilize data from documents, business cards, and receipts with ScanSnap Home software

Allows up to 30 pre-configured profiles, optimizing scan workflow

Enables scanning to popular Cloud destinations with ScanSnap Cloud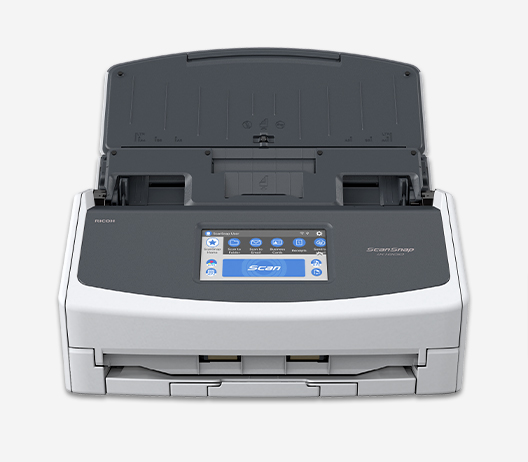 ScanSnap® iX1400
A simple to use scanner with easy one-button scanning for every day scanning needs
Allows simple (and infamous) one-touch scanning
Scans double-sided documents quickly
Has a dedicated USB connection
Scans batches of documents in color fast—up to 40 ppm duplex color scanning—so you get more done in less time
Keeps images clean with Dust Detection, Streak Reduction, and Intelligent Image Correction
Helps you easily manage, edit, and utilize data from documents, business cards, and receipts with ScanSnap Home software

Allows up to 30 pre-configured profiles, optimizing scan workflow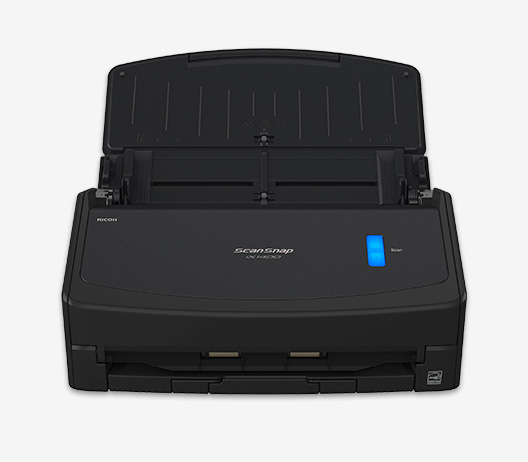 ScanSnap® iX100
A compact and wireless scanner that weighs less than one pound
Allows simple (and infamous) one-touch scanning
Has a built-in GI processor that allows scanning wirelessly to PCs, Macs, iOS, and Android mobile devices
Scans a color document in 5.2 seconds
Stays charged with a high-performance lithium battery
Scans two small documents (e.g. a business card and receipt) at the same time with Dual Scan
Capable of scanning charts and diagrams larger than A4 using auto two-page stitching
Lets you insert pages one after another with Continuous Document Feed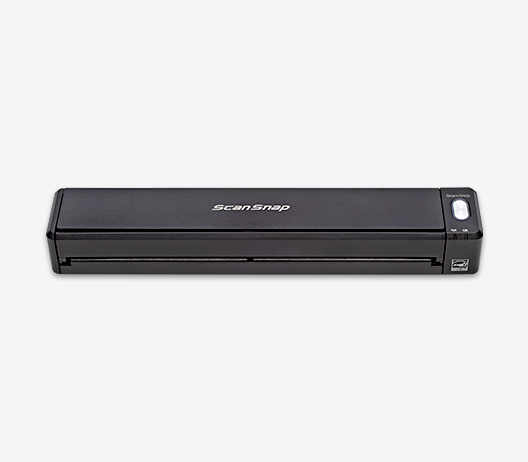 ScanSnap® SV600
An overhead-style contactless scanner that offers limitless possibilities for oversized or bound documents
Captures every inch of a document without distortion with its contactless camera
Scans bound documents such as books, magazines, newspapers, A3-size documents, and business cards—without damaging the documents
Corrects distortion and curviness of books with Book Image Correction
Digitizes and crops several documents at once with Multiple Document Detection
Shortens operating time with Page Turning Detection