Curating digital versions of your art so you can further your craft.
The impulse to create is one of the things that makes us human, and a good art scanner can help us make the most of our creations.
Maybe you are digitizing your portfolio for your first client pitch, posting your work to sell online, or simply sharing it with a close friend who wants a copy on their phone. Perhaps the most important digital application for you is one you haven't even considered yet. Regardless, if you want to digitize your creative efforts efficiently, it's worth investing in a scanner for artwork.
It's important to find a tool that will capture the essence of your art, accurately digitizing aspects like shape and color. Today's scanners combine quality and speed with an intuitive user experience. That translates into more time creating, less time curating.
When considering the best scanners for artwork, it's important to evaluate a few key criteria. How much space do you have? Do you need to connect your scanner to your computer or phone, or network it with multiple devices? Do you plan to reprint copies? How large are the pieces you plan to scan? For how the answers to these and other questions may impact your buying decision, continue reading.
Need help picking the right scanner for your needs? Check out our guide, How to Choose the Right Scanner for Your Computer
Did You Know? The fi-7700 document scanner has a large 11' x 17' flatbed that can scan fast with cover open and has 1200dpi interpolated resolution for great image reproduction. Click here to learn more.
What is an art scanner?
Art scanners allow creators to digitize their work without damaging it, with some modern models offering totally contactless scanning. And most importantly, you don't have to be a technology wiz to operate them with confidence.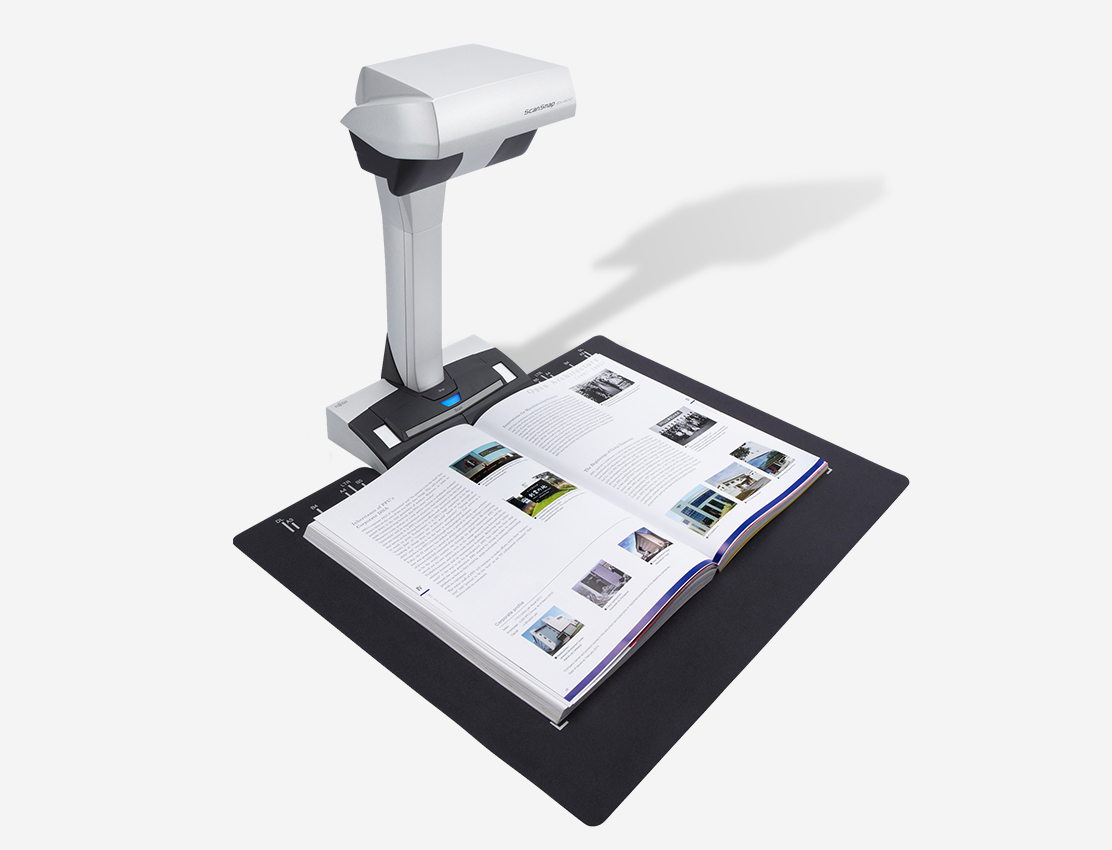 Why should you invest in an art scanner?
Are you interested in capturing high-quality files with a minimum of effort? Do you want the ability to enhance or creatively modify your originals? Hoping to share your digital files between devices? Then an art scanner might be just the thing for you. Current models can capture high-resolution digital images, enhance and manipulate them for photo illustration projects, and easily connect to your devices via an industry-standard USB connection.
If your work tends to be fairly large, you could use an 11 x 17 scanner for artwork, which would allow you to scan subsections of your original and then use software to assemble those sections into a complete digital copy. For example, if you're looking for the best scanner for comic book artists, you might want this functionality.
Did You Know? GeekDad reviewed the SV600 and concluded, 'I have just found Scanner-Geek Nirvana … this thing is pure and simple magic.'
What to look for in an art scanner
Most artists tend to be very particular about how they organize their creative and working spaces. With this in mind, look for a scanner that meets your digitization needs with a minimal footprint. One option that does just that is the ScanSnap SV600, which weighs in at just under seven pounds and measures a sleek 8.27'×6.14'×15.08'. Perfect for that spot at the edge of your work desk.
Another feature you should research is whether the scanner functions via a document feeder, flatbed, or contactless scanning. The latter is especially important with artwork, which can be fragile and susceptible to damage in feeder-style scanners. Other extras that could come in handy include duplex scanning, which captures both sides of two-sided documents in one scan, and long document capability for those tricky large originals.
Create. Curate. Create again.
The act of creation can feel sacred, but nothing ruins that feeling faster than wasting hours trying to digitize your portfolio. Compiling your work in digital form should complement your creative efforts. With that in mind, look for a scanner with software that offers an intuitive user experience and the power to organize your files clearly and easily.
The driver and image capture software should also be able to handle the quality and quantity you need, while things like paper separation, image enhancement, and file navigation will reduce the hassle involved with digitizing your creative work.
These days, the best scanner software allows even the most rigid analog art loyalists to play and create in the digital space. Image manipulation techniques become fertile fields for creative exploration. Explore for fun, or perhaps even develop a digital revenue stream with your work. Scan, upload, and organize. Then get back to what you do best — creating.
Our recommendation: ScanSnap SV600
This versatile scanner can meet all of your needs, without taking up all of your space. Its sleek size and appearance are complemented by powerful image capture software. The ScanSnap SV600 is contactless, so you can scan sensitive and thick artwork up to 1.8' without having to risk damaging it. ScanSnap Home makes managing scanned documents a breeze, combining several key organization and editing features into one hub. Plus, the ScanSnap SV600's ability to scan up to 10 documents at once and save them separately minimizes the amount of time you'll spend scanning your work in the first place.
Another standout feature of the ScanSnap SV600 is its ability to minimize distortions from scanned artwork as well as books and magazines. Auto Book Correction will flatten and correct any curve distortion that you might experience from artwork included in a format like a zine, while its Point Retouch functions can remove fingers from scans if you need to hold artwork in place.
The ScanSnap SV600 boasts an optical resolution of up to 285 dpi for horizontal images and up to 283 dpi for vertical images, and can scan large documents that ADF scanners can't. If you're looking for a versatile scanner that can digitize your artwork without any risk of damage, the ScanSnap SV600 is an excellent choice.
Compact, capable and versatile. Consider the ScanSnap SV600 for your artwork digitization.