Learn what performance characteristics to look for when shopping for independently operable scanning hardware.
The ability to transmit information freely is an essential part of contemporary work culture, especially across industries.
Whether it's medical professionals circulating critical patient care data between hospital wards or banks transmitting important financial documents between departments, the most successful knowledge workers know the value of staying agile and eliminating roadblocks. That's why so many invest in document imaging solutions capable of operating independently and securely across sophisticated organizational networks. These kinds of network document scanners afford users the ability to streamline their operations, keep information flowing, and affect greater change where it matters most.
But knowing which device is right for your needs can be challenging. As organizations mature, they often develop strict rules around the technologies and practices used to govern the transmission of information. All of this can make choosing a networked imaging device a daunting task. Thankfully, there are a few simple questions professionals can answer to help them narrow down their search. It all starts, however, with understanding exactly what a network document scanner is and the benefits it can provide.
Check out our guide, Document Scanners: Everything You Need to Go Digital in 2022, for even more expert advice and information.
Table of Contents
What is a network document scanner?
What are the benefits of a network document scanner?
Understanding your network document scanning needs
What to look for in a network document scanner
What is a network document scanner?
A network document scanner is a standalone digital document imaging device that contains built-in support for data transmission to other devices on its network via wireless mediums. Unlike non-networked document scanners, which typically act as peripherals that need to be connected to another device in order to store and transmit images, networked scanners offer the convenience of being able to send files directly from the scanner itself to an endpoint. Common destinations include on-premises data servers, cloud storage services like Google Drive or SharePoint, personal computing devices, mobile phones/tablets, and more.
As of 2021 approximately 50% of all corporate data is now being stored in the cloud, and consequently many devices have evolved to support transmission to the most popular cloud based storage services like Dropbox, Microsoft OneDrive, or Google Drive. Support for more specialized cloud storage services like Hubdoc or Rocket Matter may be less common and could require more involved integrations, so buyers should be sure to do their research before making a purchase.
What are the benefits of a network document scanner?
Because they don't require an additional device in order to transmit files, network scanners can be an ideal choice for workspaces and commercial environments looking to save space and streamline their operations. Retail locations and satellite offices can capture important paperwork and transmit it directly to a centralized corporate office without needing to interface with a dedicated computing device.
For knowledge workers, networked scanners can be shared by multiple people within the same office, preventing delays that could result from the scanner only being accessible from a single machine. At an enterprise level, IT managers can add networked scanners to the list of devices in their fleet that they're able to conveniently manage from a central location. No matter the size of organization, more accessible devices mean less equipment to support and greater cost savings.
For example, when paired with the fi-7300NX (seen below), the NX Manager software provides easy-to-use, web-based, centralized management, allowing IT to remotely control up to 1,000 scanners, even at remote branches.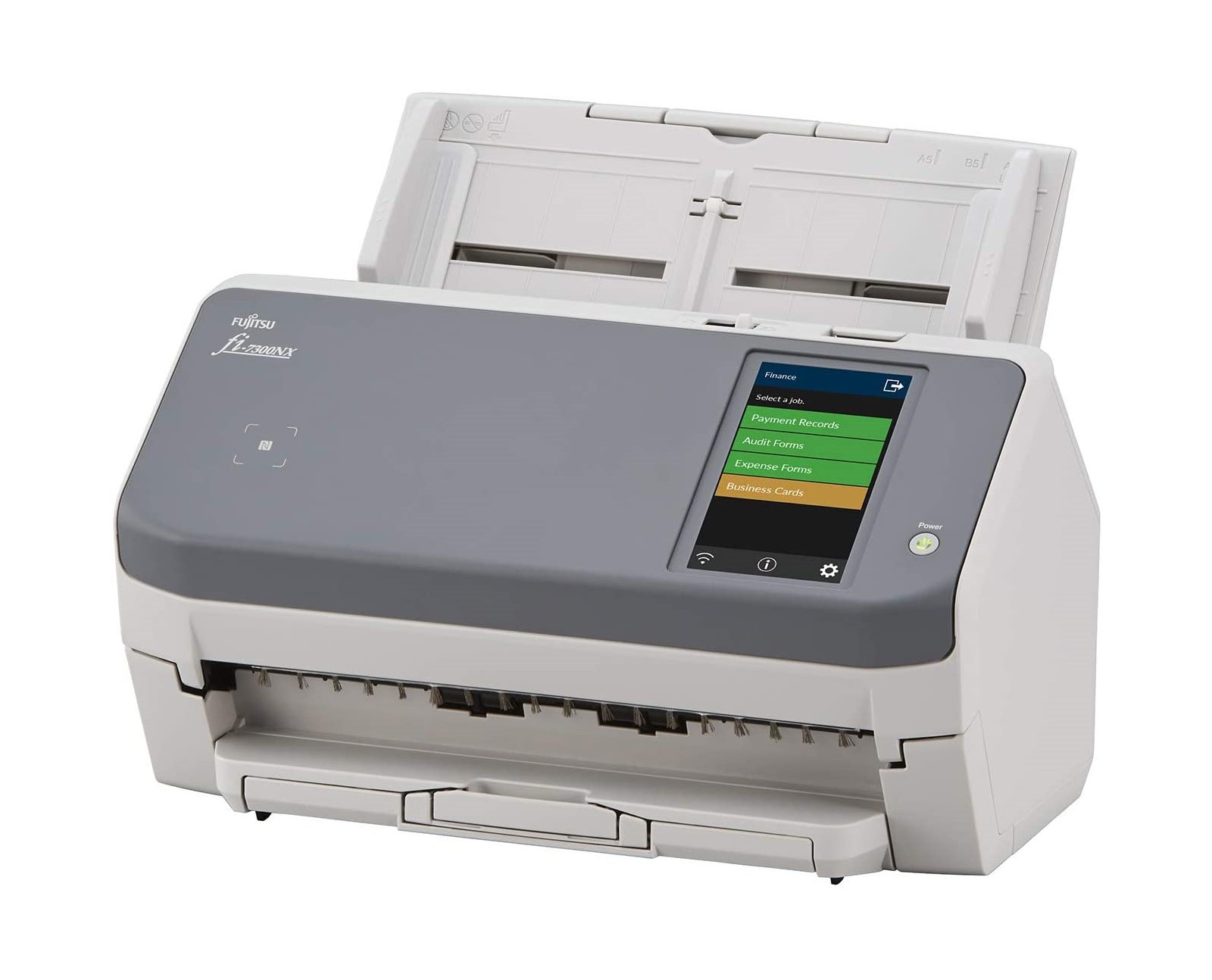 Understanding your network document scanning needs
The first step in choosing a network document scanner is to understand what your most common use cases will be and what performance characteristics will offer you the biggest return on your investment. Before making a purchase, ask yourself the following questions:
How will the device be connected to other devices on the network, and does it include support for that medium? (2.4 Ghz Wi-Fi, 5 Ghz Wi-Fi, or Ethernet?)
How frequently will the device be used, and will the resulting network traffic necessitate additional Wi-FI nodes?
Are there any existing business systems/platforms that the device will need to support/integrate with?
Where will the device be placed, and how much space is available?
Will the device be accessible by members of the public and therefore need to be intuitive to use?
Will the device be used to scan sensitive documents like medical or financial records, and therefore require additional security?
Knowing the answers to these questions will help you evaluate your options when it comes time to make a decision. Read on to learn more about the specifics of what to look for in each category.
What to look for in a network document scanner
Any networked imaging device should offer completely independent operability, and not strictly require that it be connected to an external machine, to allow multiple users within the same work environment. The primary benefit of a network document scanner is the ability to uncouple scanning functionality from a dedicated machine and unlock greater productivity for workforces. Be sure that any device you're considering for its network support features is in fact a standalone device.
2. Convenient placement options
One of the biggest advantages of a networked document imaging device is the number of placement options that come with not being tied to network cables. With average office rents in major cities hovering around $40 per square foot, investing in equipment that can be placed anywhere can pay long-term dividends for business owners while accelerating workflows and cutting down on the overhead costs that come with having to ship physical documents.
Having a shared device capable of operating independently of other operating systems should, when executed correctly, minimize the amount of time IT resources need to spend maintaining it. Ensure streamlined support for drivers and support for the full gamut of data transmission technologies to ensure no special affordances are necessary. Make sure it can handle both 2.4 GHz and 5 GHz Wifi, as well as wired connection options. Having an ethernet document scanner or one that also supports USB can be helpful in a pinch.
4. Compatibility and compliance
Many businesses, especially those that have been in operation for a number of years, have likely made infrastructural investments that could be heavily tied to specific technologies, vendors, or protocols. Be sure to research whether or not any potential purchase can support systems that your business may be dependent on like TWAIN or the Image and Scanner Interface Specification (ISIS). If you're doing archival work, your device may need to be FADGI capable to ensure alignment with any applicable federal guidelines.
Any dedicated imaging device should offer a clear and intuitive experience especially in environments where members of the public are interacting with it. If you're considering a network document scanner for your customer-facing retail or commercial spaces, pay extra attention to size and usability of interfaces to avoid frustration and provide a smooth buyer's journey.
2021 saw the average cost of a data security breach climb to $4.24 million. All businesses, regardless of size, need to be disciplined in their infosec practices, especially when it comes to sensitive documentation. Be sure any device you're considering supports multiple security layers, including user-specific PINs, NFC card scanning, and authentication via digital credentials.
Even businesses fortunate enough to have dedicated in-house IT resources can often benefit from the help of a device manufacturer, especially when network technology is involved. Research what level of support is included in the purchase of a device and determine whether or not it's worth investing in an extended support plan.
Our recommendation: fi-7300NX
There's no shortage of options when it comes to choosing a network document scanner. We pride ourselves on having spent the last 50+ years designing and developing some of the best electronics in the world, including our line of award-winning, easy to use network document scanners.
The fi-7300NX is a versatile, Wi-Fi, cloud-enabled network document scanner capable of scanning from anywhere, to anywhere, without needing to be tied by USB to an external device. With the NX Manager server software, you can easily integrate with multiple on-premises or cloud destinations and transmit your images wirelessly anywhere in the world. We believe it's the ideal choice for anyone looking to add a network document scanner to their professional or retail environment, and we hope you'll agree. Click here to learn more and to shop the full line of fi scanners.