Buying a wireless document scanner frees you from cables and creates more flexibility in how you manage your workspace.
Modern workspaces are becoming more dynamic and decentralized, making the flexibility and minimal overhead of wireless document scanners an asset.
In fact, research has found that the most productive offices are those that offer a variety of workspaces capable of accommodating a broad range of work styles, with collaborative spaces situated alongside private ones. These contrasting environments, coupled with the rise of smart office technologies and remote work culture, demand hardware that can adapt to meet the needs of professionals in motion. With their cable-free installation and broad range of network support options, wireless scanners are increasingly becoming the imaging solution of choice for modern knowledge workers.
That said, knowing which type of wireless document scanner is right for you can be challenging, especially considering the various specialized types available. In this guide, we'll take a closer look at the various options available, their unique benefits, and what to look for when determining which model is right for you.
Check out our guide, Document Scanners: Everything You Need to Go Digital in 2022, for even more expert advice and information.
Jump to a section…
What is a wireless document scanner?
What are the benefits of wireless document scanners?
Choosing the right wireless document scanner
Our recommendation: ScanSnap iX1600
What is a wireless document scanner?
Unlike traditional scanners, wireless document scanners allow users to digitize documents in more ergonomic and accessible ways. Wi-Fi and bluetooth support often allow them to be placed anywhere within an office environment, letting team members share access in ways that are convenient for them. Wireless portable scanners can also come in a variety of specialized types. Some are designed simply to free up staff from being tethered to a computer, while others like the ScanSnap iX100 (seen below) were designed explicitly to be lightweight, portable, and capable of scanning a variety of documents on the move. These features make them ideal for those working in real estate, construction, and any other industry where documents need to be digitized outside of a traditional office setting.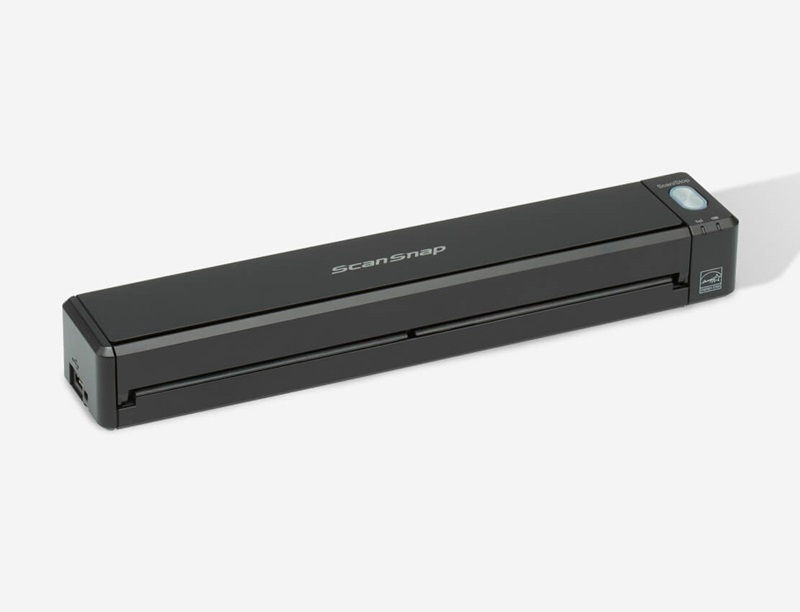 What are the benefits of wireless document scanners?
Wireless document scanners can digitize the most common paper-based documents, such as contracts, mail, notes, and even personal photographs with the added convenience of being untethered by network cables. They are generally easier to install than traditional scanners and can connect to a higher number of devices simultaneously. What's more, wireless scanners don't have to be near a computer to operate — depending on the network's range, it could be in another room entirely! These benefits create more flexibility when installing and using document scanners in a professional or personal setting.
Did You Know? The ScanSnap family of scanners specializes in versatility and ease-of-use at an affordable price. Click here to learn more.
Choosing the right wireless document scanner
Sometimes the most limiting factor of any network is a direct internet connection. This is because we need additional infrastructure for every connected device when we rely on network cables. As such, wired devices define how workspaces are physically arranged and how people work within them. On the other hand, wireless networks are far more flexible, managing multiple devices at scale across a shared space — which is helpful in an office setting! But that also means the workspace can grow by expanding into the cloud.
As such, many models include the ability to connect directly to cloud platforms like Google Drive, Adobe Cloud, or OneDrive. With 92% of enterprises using a multi-cloud business strategy, there's real value in such investments — they eliminate inefficient manual uploads and make documents accessible to anyone with the right permissions. While additional IT support may be necessary for a private or hybrid cloud environment, businesses that rely on cloud technology should choose scanners compatible with their preferred providers wherever possible.
Setting aside image quality, one of the biggest considerations for any scanner is its accessibility. Thankfully, wireless connectivity creates any number of ways to interact with the device — along with a built-in display panel, anyone can theoretically manage them from a remote computer or mobile device. The downside is that every wireless scanner will need multiple interfaces to support each touchpoint.
To ensure these interfaces work as intended, it's important to consider how the scanner will be used in advance. For example, in a business environment, will employees connect from work computers or a smartphone app? Is its touchscreen interface intuitively designed while granting access to all features? And most importantly, how easily can the on-device panel pull up networked devices to instantly transmit digital documents? Of course, the answers to these questions will vary based on your workspace needs, but all are essential when shopping for a suitable scanner.
If you expect to be scanning documents outside of the office, you'll likely want to consider a fully portable scanner. These devices are smaller and easier to pack than standard document scanners while still being expressly designed to digitize documents anywhere — ideal for business meetings, hotel rooms, or airport terminals. Most portable document scanners use built-in Wi-Fi signals to deliver documents, including SD cards or USB plugs for manual transfers.
While falling broadly under the category of wireless scanners, portable scanners are practically a category unto themselves. Look for features such as:
Simplex or duplex sensors that scan single or double-sided pages at a time.
Wand scanners that digitize pages by manually waving the device overhead instead of using a traditional feeder.
Device compatibility, such as whether the scanner can communicate with Windows, macOS, Android, or iOS devices.
Did You Know?LifeWire called the ScanSnap iX1600 a "professional-grade scanner with all the bells and whistles." Click here for the review to see why it earned a 4.6 out of 5 rating.
Our recommendation: ScanSnap iX1600
There is no shortage of options when choosing a document scanner for a workspace or home office. We pride ourselves on spending the last 50+ years designing and developing some of the most beloved electronic products in the world, including a line of award-winning, easy to use, one touch ScanSnap scanners.
The ScanSnap iX1600 is the evolved flagship model of our ScanSnap series. It comes with Wi-Fi connectivity and cloud services support, making it the perfect model for team sharing. In addition, the iX1600 enables high-speed scanning of 40 double-sided pages per minute while a 4.3-inch touch screen bridges the gap between physical and digital interfaces. We believe it's the best choice for a document scanner that meets all of your workspace needs. Click here to learn more and shop the full line of ScanSnap scanners.